Legislation filed to name Rep. Groen New Hampshire's official state moron
Posted on Mar 21, 2015 |
3 comments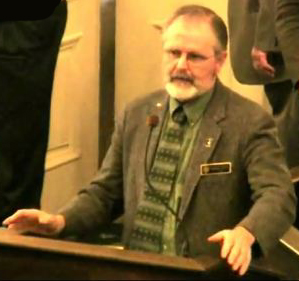 By John Breneman
Polls in the Granite State show overwhelming support for new legislation naming Rep. Warren Groen New Hampshire's official state moron.
It was during recent debate on a bill drafted by Hampton Falls fourth-graders to name the red-tailed hawk official state raptor that the Rochester Republican distinguished himself as a true right-wing birdbrain.
Of course the hawk can't be New Hampshire's official state raptor, he said, because of abortion.
Groen delivered a groan-inducing speech suggesting that because it "uses its razor-sharp beak to basically tear (its prey) apart limb by limb" the hawk "would serve as a much better mascot for Planned Parenthood."
The students went to Concord for a lesson in democracy, and they sure got one. In your face, fourth graders. You are political pawns who should be more thankful you weren't aborted.
After the bill was defeated 160-133, Groen's juvenile disrespect for the class of engaged, mature schoolchildren earned nationwide ridicule.
As it turns out, the students actually did receive a valuable lesson – on how critically important it is to vote, so dunderheads like Groen do not get elected to the Legislature.
Share
Related stories:
Sweeping GOP bill declares Obama an 'enemy combatant'