Remembering Gramma Jo
Posted on Jul 1, 2015 |
0 comments
Editor's Note: My grandmother died on Thanksgiving Day 2004 at age 94. She was feisty and funny and sweet. Below is a piece I wrote for her on her 90th birthday.
By John Breneman
This is about a few things — a million-dollar baseball card, a 64-cent pocket watch and a $1.75 rocking chair, as seen in the 1909 Sears Roebuck catalog.
But mostly it's about my grandmother. She'll be 90 on Tuesday, but you could easily mistake her for a lot younger. She made me lunch the other day, and I think I was more impressed than she with the nifty birthday card she received from the White House.
She was born in 1910, so I've always had that date in my head. William Howard Taft was president. Good man, Taft. Huge man. He weighed 325 pounds during his White House days, maybe even more by the time he made chief justice of the Supreme Court. On April 14, 1910, Taft was the first president to throw out the first pitch at a Major League Baseball game.
Well back in those days, there was no finer ballplayer than Honus Wagner, the future Hall of Fame shortstop for the Pittsburgh Pirates. Honus had won seven of his eight batting titles by that time and his Pirates were the defending world champs, having beaten Ty Cobb's Detroit Tigers in a seven-game series the previous October.
(Purely by coincidence, a friend recently gave me a 1909 Sears Roebuck & Co. catalog. So I thought I'd sprinkle in an occasional reference to what things cost back then. For example: baseballs started at 5 cents, bats a dime, mitts at 18 cents for a boy's).
Anyway, I guess when little Josephine Findora Hooper (she prefers Jo) was a kid in the north side of Pittsburgh, Honus Wagner used to come by and visit a family in her neighborhood. She didn't care about baseball, mind you.
That didn't come until much later, say around 1971 when the Pirates won just their second World Series since 1909 and captured the imagination of two brand new baseball fans in Pittsburgh. So each time my grandmother would drive out to visit us the next summer, she'd bring baseball cards – crisp, fresh packs with a pink slab of gum in wax paper, beautiful picture cards of baseball heroes, stats on the back. We'd hope to find a Roberto Clemente inside. Willie Stargell or Manny Sanguillen. The shortstop, Gene Alley, was OK. But he was no Honus Wagner.
No surprise that Pittsburgh has changed a lot from when my grandmother grew up to when her first grandson appeared in town back in '61.
"There were steel mills all along the river and smoke and everything. It was very unhealthy," my gramma recalls. "You couldn't wear white because you never knew what color it would be by the end of the day."
"All along the river was industry. In the summertime there was a big pleasure boat like on the Mississippi. It was called the Homer Smith." The boat had a musical calliope and kids weren't supposed to be in the river, but my grandmother admits now they would sometimes "swim out to meet the waves."
At the corner lot near her house, there was a genuine, old-fashioned sandlot baseball diamond. "Tufts of grass here and there. It wasn't a real ballpark but it was used an awful lot."
"Baseball is a great American game," says my gramma, who thinks we might all be a little better off nowadays if more kids were playing ball in backyards and corner lots. She still keeps tabs on what the Pirates are up to, though not as much now that she lives up here in New Hampshire.
She was born in Uniontown, Pa., like I said on August 1, 1910. Her dad John Albert Findora was an Austrian immigrant who designed manufacturing machinery. Her mom, Mary Lydia Phillips, grew up on a farm outside Uniontown.
"My mother was a saint," says Gramma, who remembers riding in her parents' car back when no one else in the neighborhood had one. Theirs was a Maxwell. I found a picture of a 1920 Maxwell Town Car on the Internet and it is very snazzy model indeed. Very Bonnie and Clyde.
"We were real famous because we had a car," she says. In the summer they'd drive out to visit her grandmother and she can recall kids tagging along as the automobile pulled into town just to get a look at the curiosity. The only problem was the tires would blow all too frequently, so "you had to stop and patch the inner tubes." (The 1909 Sears catalog does not list any cars, but you could purchase a first-rate American Beauty buggy for the price of $38.50.)
As she got older, my grandmother enjoyed driving. Sometimes taking her father to work and later driving for a businessman who lived next door and had "a nice big Packard car." While wintering in Florida with her sister-in-law, she even drove cross-country.
"Every day was an adventure," she says of cruising through Alabama, Mississippi, Texas, California. "Go from coast to coast. … I did all the driving." Her husband did a lot of driving too in his work as a magazine representative.
My grandmother met John Clark Hooper, the man I am named after, when she worked at a department store that had a lending library. "I was in the library and he was working with Pittsburgh News," a publications distributor.
"He used to come in and check the magazines," she says. "One day he asked me to go to lunch."
The couple had two daughters, Jill (my mom) and Nancy. John Hooper later worked for Newsweek magazine but he suffered from diabetes and died too young, before I was born.
It was great to talk with my grandmother about her first recollections of my father ("I thought he was a nice guy. I knew he was very intelligent. I was impressed.") To find out that my aunt, now close to retiring from her career as a Pittsburgh police detective, "never had her nose out of a book" as a kid, sometimes even in the bathtub.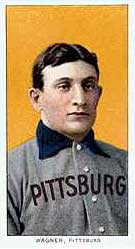 The night before our visit last week, my gramma called me up to tell me that a baseball card of Honus Wagner had sold for more than $1 million.
This sliver of colored paper was free with a pack of cigarettes 90 years ago. But Wagner, thinking of the children, didn't want them using his name and image to sell tobacco. So only a few of the cards came out.
I became a baseball card collector at age 10, thanks in large part to the generosity of my grandmother. "I spent a lot of money on cards," she says, obviously very happy to have done it, and aware that baseball had a positive impact on my young life.
The Honus Wagner card, looking more like an Impressionist painting than a modern-era sporting snapshot, is the Holy Grail. I have Ty Cobb from the same set and it is a treasure valued at only 1/1000th the Wagner card.
So now it's almost my grandmother's 90th birthday, a baseball card of a guy she saw in real life just sold for a million bucks, medication costs a couple hundred a month, and I'm leafing through the 1909 Sears catalog, where Dr. Hammond's Nerve and Brain Tablets are only 55 cents a box.
The book's cover boasts, "Cheapest Supply House on Earth. Our Trade Reaches Around the World." So I'm thinking of getting my grandmother a few birthday presents from the Sears people.
A Boston rocker for $2.25. A Columbia Disc Graphophone ("embodying all the features of the highest grade talking machines and yet sold at a moderate price") for $15. She still likes doing laundry, so maybe a Superba ball bearing washer for $6.50. Perhaps a silver cross with gold finish for $1.22. But I'm sure if I asked my grandmother, she'd say she didn't need anything.
"I've been pretty lucky up to this point," she says, soon to be guest of honor at a family gathering. Ninety years old and still sharp and funny, smart and beautiful. What's her secret?
"I trust in God with all my heart," she says. "It works for me."