Hub fans bid curse adieu
Posted on Jul 4, 2015 |
0 comments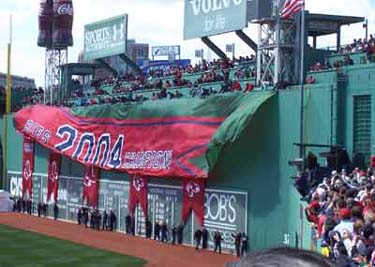 (Note: I'm blessed to be at Opening Day at Fenway today. I wrote this tribute to the 2004 World Champion Red Sox, and snapped this photo, on Opening Day 2005, as the Fenway faithful celebrated the team's first championship since 1918.)
By John Breneman
Diamond rings the size of a baby's fist. Fighter jets tearing across the sky and soldiers in wheelchairs rolling across the Fenway grass. A Red Sox championship banner billowing from the Green Monster.
All of a sudden, 1918 doesn't seem so long ago. Not when Johnny Pesky (circa 1942 Sox) is standing right there soaking it all in with Dom DiMaggio, Dewey and Yaz – and the rest of us 35,000 lucky stiffs, all crammed into this hallowed baseball artifact – the one John Updike called that "lyric little bandbox of a ballpark" – swept up in the emotion of a shared dream.
Everything is new this spring. The 2004 Sox made history, choked the Yankees, broke the curse, swept the Cards and made grown men cry. World champs.
And now the Yankees are back in town. Now that another New England winter has frozen the exhilarating memories of last October into Red Sox lore, it's time to come out and play once more. But first we have a couple of small matters to attend to.
You know, handing out gaudy chunks of etched white gold. Singing songs to honor the glory of Red Sox past and present. Unfurling gigantic World Series banners … in their smug Yankee faces.
Or cheering like idiots when the announcer calls out "Mariano Rivera." You didn't have to be at the park to hear Fenway erupt with a standing O honoring the monster closer's autumn misery.
We were almost done saluting our heroes of 2004, honoring Red Sox warriors of games gone by and bidding farewell to the ghost of Mr. George Herman Ruth. Almost ready to ring in the new year with an 8-1 Yankee spanking, a savory and satisfying Wakefield knuckle sandwich.
But wait, what first-ever Red Sox defending world champion Opening Day extravaganza would be complete without a special appearance by the president of Rwanda? From up in the bleachers I couldn't see whether or not President Paul Kagame brought his mitt but it looked like he had finally ditched Gov. Mitt Romney.
After three innings on the mound it was clear Wakefield had stepped forward as one of the Yankees' new daddies. Wake had the Yanks shooting blanks with his 54 mph fistball and his knee-buckling knuckler, leaving a breeze of whiffs and nicks in his wake.
Fans from around the region flocked to Fenway for the mind-expanding '05 opener, high price of gasoline be damned. High price of beer be damned too, while we're on the topic. According to my crude calculations, Sam Adams premium unleaded carries a ballpark pump price of roughly $72 per gallon. (Psst, we smuggled in our peanuts. My friend only paid a couple bucks at the grocery store, but the nuts have an estimated Landsdowne Street value of $50-$75.)
Yes, it is definitely good to sit in the Fenway bleachers with a cold brewski while Tedy Bruschi of the three-time world champion New England Patriots throws out the first pitch alongside Richard Seymour, Bobby Orr and all-time undisputed ring king Bill Russell.
The true significance of what this all means to the generations of people who have placed hope in something called the Red Sox cannot be captured in words (though the Boston Herald headline "Joy of Sox" comes close).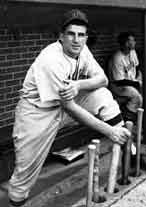 For me, it is all in the emotion of the thing. It's the way you feel when the Sox do it — when they battle back from so far down and really finally do it — while you're screaming at the TV with your family and friends.
It might be that shiver you feel when the scoreboard on Opening Day flashes a giant black-and-white of young Johnny Pesky, looking like the kid Moonlight Graham in "Field of Dreams." It might be remembering when your dad took to that first game and there he was, Roberto Clemente. Or Yaz. Or Mickey.
I think loving the Red Sox – sorry, I mean the world champion Red Sox – is all of that and much more. It's a whole Zen, Ken Burns, Pudge, Cooperstown, Cy Young, Tony C., Babe, 1918, Impossible Dream kind of thing.
Share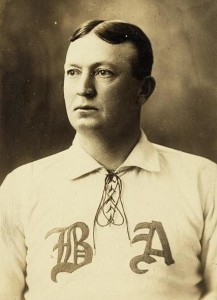 Related story:
Forever (Cy) Young — (I wrote this one on Oct. 20, 2013, as Red Sox Nation was readying for Game 1 of the World Series. Spoiler alert: Sox win in six games!)
A century and a decade ago last Sunday, Boston defeated Pittsburgh 3-0 to win the very first World Series championship. That's 110 years ago. In 1903 …