Jan. 8: Elvis Presley
Posted on Jan 8, 2015 |
0 comments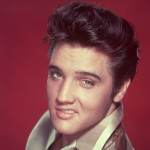 Elvis Presley (1935-1977): king of rock 'n' roll, hit songs included "Heart Bypass Hotel."
Credited with introducing the pelvic thrust to American audiences, his shocking death at age 42, attributed to lard, drugs and blue suede booze, left millions of fans all shook up.
His legacy includes banging out three B-minus "movies" a year throughout the 1960s, one of which was titled (for real) "Tickle Me."
In this video, Movietone News catches up to the emerging superstar onstage in Tupelo, Mississippi, in 1956.
Also, Elvis pleads "innocent of all charges" in this long-ago interview.