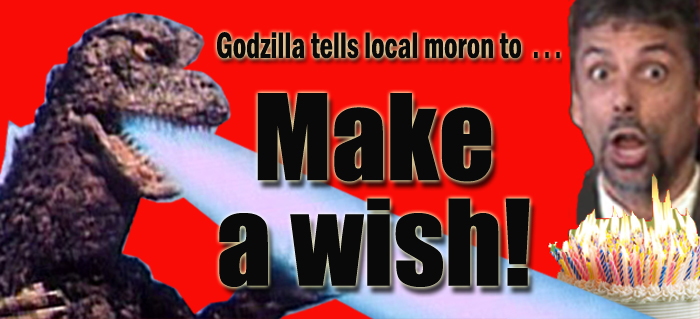 Thanks to one and all for the wonderful morning birthday wishes, buttered raspberry scones, tequila lattes, Bacon Bowls, minibikes, "That's What She Said" cards and Chuck E Cheese gift certificates!
And special thanks to my pal, Godzilla …
Godzilla gone 'Mad'
Hot new theory: Don Draper to be roasted by Godzilla in shocking "Mad Men" finale! Anonymous sources say many clues point to incineration by the mythic beast. How do you think the classic AMC drama will end?...
Green Monster
Godzilla is fired up to fire up the new season Friday at Fenway. In this file photo, the legendary Green Monster enjoys view from atop legendary Green Monster. Tweet Share Links to some of my baseball writing: Hub fans bid curse adieu (My report from Fenway on Opening Day 2005, celebrating the 2007 World Series championship.) Forever (Cy) Young (My report at the start of the 2013 World...
5-Alarm Godzilla
Smokey the Bear is frustrated that he has repeatedly lectured Godzilla about forest fires, yet the Blazing Beast often leaves conflagration in his...
Godzilla No. 2
Polls show Godzilla's stance for clean energy is offputting to many Republicans. But leading experts say the Green Behemoth's poo can power a small city for up to 17...
Godzilla global warming
This is a panel from my award-losing Godzilla series. Leading experts now agree that Godzilla's connection to global warming is in unassailable scientific fact....
Godzilla 2012
The Great Beast scorched his way onto the 2012 presidential landscape when it was revealed that Republican challenger Mitt Romney was utterly befuddled by the Godzilla issue. Sarah Palin had long accused President Barack Obama of "palling around" with...
Godzilla fires Trump
This a panel from my award-losing Godzilla series. Godzilla normally wouldn't waste his fiery breath on such a pompous, pompadoured douche as Donald Trump, but Trump's classless birtherism triggered the death ray. Related story: Trump claims he has proof Obama is...