Eagles Fly Alone
Posted on Dec 5, 2014 |
0 comments
"Eagles Fly Alone"
By Lars R. Trodson
Langley Calhoun, chief of police of Fenton, New Hampshire, is the super cool name of a memorable character created by a dear friend of mine named Lars Trodson.
One of the few books I have actually read in recent years, "Eagles Fly Alone" is a robust, sweepingly robotic work that reveals Mr. Trodson to be outstanding in his field. Just kidding about robotic, because alert readers will quickly discover that Trodson, reputed quintessential island newspaper editor/auteur, is anything but. In fact, his prose pulsates with electric rusticity.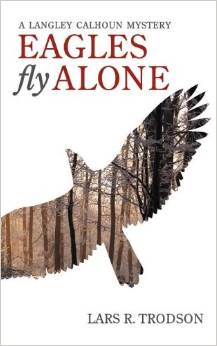 This elegant novel has been rightfully hailed by noted literary critic and bon vivant Arturo Slithergard as a seminal example of the "post-agrarian, neo-bucolic New England spine-tingler fiction" genre.
"Mr. Trodson is a patient and perceptive writer with a special ability to create a realistic small-town New England universe. Giving us sincere, engaging characters and allowing their stories to unfold at an hurried, rural pace helps make it a soulful, even soothing read, enlivened by both humanity and humor." – John Breneman (my actual review at Amazon)
It could be said that the dashing, roguishly charming author (here at Goodreads) is in some ways a "poster boy" for gentleman/scholar trying to earn a white-collar dollar amid the financial squalor of the post-industrial print/indie publishing industry.
Lars is also the author of "Tide Turning," which is next on my list of books to read after I finish the one he just gave me, "Giles Goat-Boy" by John Barth. He is also a writer, editor, co-founder of Roundtable Pictures.
Informed sources buzz that Hollywood will not stop pestering him for the movie rights to his debut novel (Nicolas Cage in talks for "One Flew Over the Eagle's Nest").