Diary of a Pissed-Off Flight Attendant
Posted on Dec 5, 2014 |
0 comments
"Diary of a Pissed-Off Flight Attendant"
By Sydney Pearl
Have you ever wanted to smack a baby? Well, Sydney Pearl promises no overt baby-slapping, but "Diary" is billed as an "indiscreet, eye-opening" look at how it feels for a flight attendant to be assaulted by the joke "Are we there yet?" by multiple a-holes at 40,000 feet.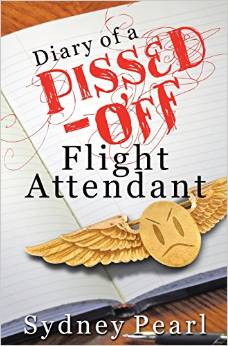 Drawing on decades of aviation industry knowledge and nonsense, the author with the lovely name is described as "an active flight attendant for a well-respected airline" that shall remain nameless.
The musings of her "Pissed-Off Flight Attendant" are said to include humorous anecdotes about the "many ridiculous shenanigans passengers perpetrate, both before boarding and while in the air."
Potential readers may also enjoy the description at Amazon: "A brash, funny, and downright ballsy ode to the ups and downs of life in the air."
See "Diary of a Pissed-Off Flight Attendant" also at Goodreads and the author's page.
*   *   *
Book Blurbs editor John Breneman is the author of "Downsized! How I Got Laid Off After 30 Years in Newspapers and Turned My Funniest Sunday Advice Columns Into a Blockbuster E-book."